The To Seat service allows a customer to browse your menu and then order directly to their table.
You need to configure this correctly in both Venue Settings and Outlets. See the video and then the more detailed step-by-step instructions.
How to configure - video
What you will set up here is the customer journey when they first arrive on your ordering page. You're allowing the customer to select their table/seat as part of a selection of services.
You can allow the customer to select from a list of table numbers, or require them to input the table number themselves (useful for stores with a large number of tables).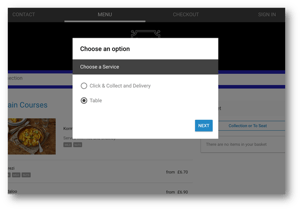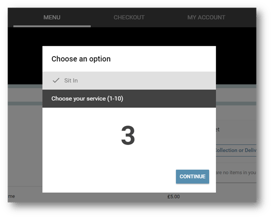 With the "Accept free text" option enabled, the table list will be replaced by a box allowing the customer to input the table number themselves.
How to Configure 'To Seat'
This example shows setting up To Seat along side Collection, see Note section below for tips on setting it up solo.
Go to your store Dashboard at QikServe

Navigate to Venue Settings > Services > and Turn on 'To Seat'


From the left hand menu navigate to Outlets > My Outlets

Create a second outlet under My Outlets, entitled 'To Seat'. Make sure to select the menu which you would like it to apply to.
You must always have two Outlets created when using To Seat service, even if that is your only Service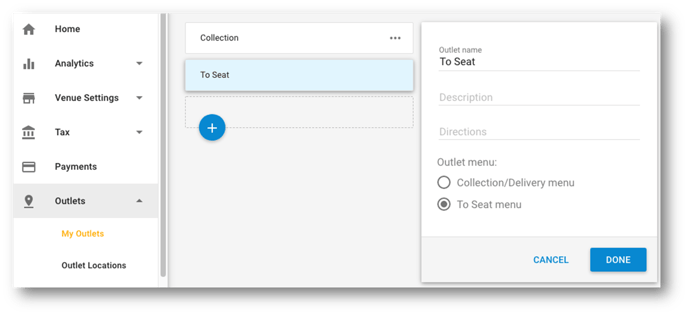 Under the Outlet Location tab, if this is your first time here you will need to create a new group

Click the blue '+' symbol and enter your Group label as something similar to 'Choose Your Service' click done


Click the blue '+' symbol to add a Location

Under Location name call it 'Table' or similar. What you enter this it is what will show before the numbers you enter. Make sure you have selected the To Seat box under 'Available services', and the number range of tables you would like, then click Done.


Click the Add Outlets button on the top right hand corner of the screen


Drag and drop the outlet onto the corresponding service, clicking Done when you have finished. This adds a menu to your Outlet Location/Service and with out this step it is not visible to the customer
Notes:
Only offering to seat? Please note that for your to seat service to work correctly you still need two Outlets created in My Outlets - if you don't have the need for a second, then simply create a spare one

If you are offering To Seat as well as Collection/Delivery then you will need to add these services to Outlet Locations as well, as is displayed in the example above

If you are only offering Collection and/or Delivery service and are using the same Outlet (menu) for both then you do not need to create any locations in Outlet Locations

Think of Outlet Locations as a tripod that won't work unless you have the three legs working. First you need a Location (1), then you need a service attached (2) and then you need to attach an Outlet (3)

Checking the "Accept free text" box will replace the list of tables with a manual input, allowing the customer to type in the table number.
Adding further layers to your Outlet Location
If you have different sections of your store that you would like categorise for To Seat service (or any service) you can add further layers to the selection process. The customer's selection of their table might look like this: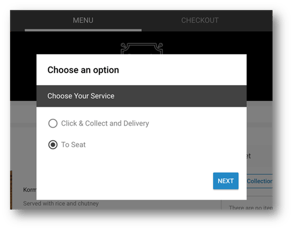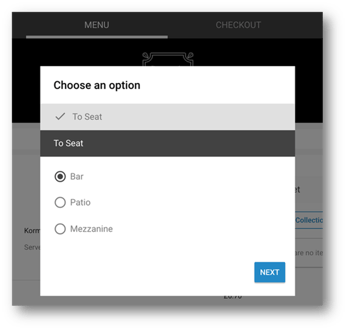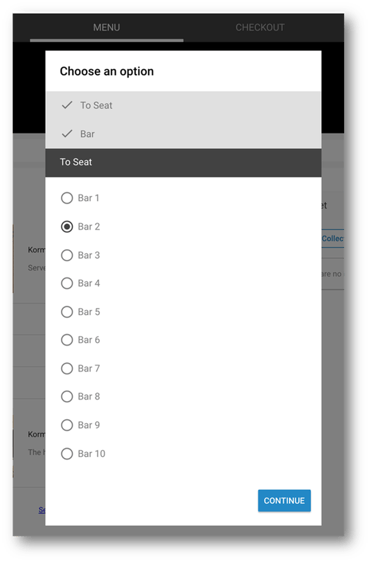 You can add another layer to an Outlet Location and then create the sections within that new layer, to do this:

At step 4 above, do not click any service type when you create your new Outlet Location and call it 'To Seat' and click Done.

Now you will see when you hover over the three little dots the option to 'Add Sub Group', click this.

From here now you can create as many sections as you need and add to the

To Seat

service with table numbers for each new section you create

Finally, drag and drop an

Outlet

to each area you have created in this layer