See below features, improvements and bug fixes for the past month.
New Features
QikServe launches first accessible digital ordering platform

The platform has been enhanced to meet the needs of people with visual, auditory, physical and cognitive disabilities

To read about the features in full, the internationally recognised standards it was built to, and words from our Founder and Head of Product Design see our website: https://www.qikserve.com/accessible-ordering-platform/

Guest Checkout FEATURE FLAG

If your customers don't wish to create an account in order to make on online order with your business, you can now ask the Support Desk to activate Guest Checkout and still collect your contact details in order to fulfil their order

Let us know which following fields you require, and if they are optional or mandatory for the customer. By providing information it won't create an account for them, and if they come back to order again they'll have to input the data a second time:
First name / Last name / Phone number / Email

You will still get the order information onto your orders screen and Dashboard analytics, however you will not get their contact information.
The option as shown to customers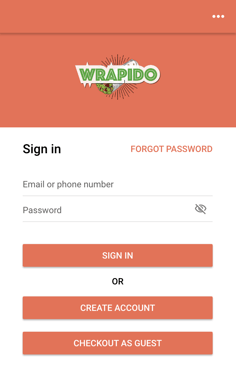 A mix of any of these fields is possible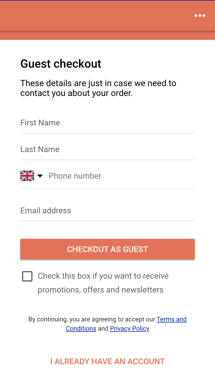 I cannot continue as in this example the email is required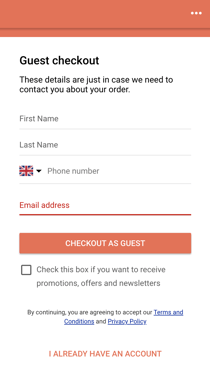 Item level Instructions FEATURE FLAG

Previously we've had the ability to set item level instructions but it was on an item by item basis, and now you have the choice to apply this to all items much more simply. Enabling this gives the customer a text box where they can type instructions about their item. E.g. for a burger they might write "no lettuce". This keeps item instructions tied to the item and not all stored in one place via the Special Instructions box at checkout

You can set the number of characters in the text box so that it matches well with your printer/screen, and choose for this to be a mandatory or optional field. You can also turn this off per item should you choose to

Item level instructions will get sent to your POS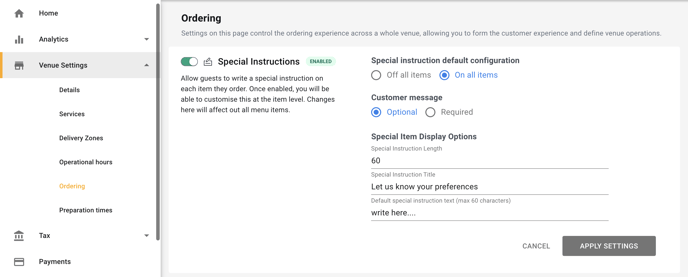 Improvements
New Delivery fields ready for 3rd party providers
Last month we released a new UI & fields for customers when entering their address, and it is now working on all our 3rd party dispatch providers; Bringg / Fiuge / OnTheDot / Orderlord / Tookan

Edit custom Delivery Zones
On customer delivery zones you can now edit the shape of them after they have been created and even add break points to a line to make it a more complex shape

Adyen Dropin payment provider

This is now available on our native apps

Requires a resubmission of the app if you already have one with us

Updated Terms & Conditions and Privacy Policy

On your checkout page we have updated the T&Cs and Privacy Policy that your customers sign up to, to make them clearer and more robust

ICR POS improvements FEATURE FLAG

Menu items will keep the same position and structure as they have on the POS when they are synced to our Dashboard

Via the Outlet Locations we can choose to ask a customer specific questions at checkout, such as for Curbside Collection 'what is your car registration?'. This gets sent correctly to the POS

Display names for items and modifier items come directly from ICR

If you use a 3rd party delivery provider your POS will just tell you the time to prepare your order by, and not bother you with when it needs to be delivered

If you have a modifier that is used more than once - e.g. the option to add salt/vinegar - it will not create only one modifier per menu, thus keeping your dashboard cleaner and more streamlined

RES 3700 POS improvements FEATURE FLAG

Fees, such as Delivery service fees, and Tips and Service charges can all work on RES integrated stores

You can offer more than 1 percentage discount rate to your customers, however they can only add one to their basket at a time
Bug Fixes
Promo pop-up

In some cases using the pop-up notification on Promotions, as is often done to communicate to a customer, would cause you to need to OK the message twice on the ordering page

Spelling mistake on QikPay fixed

The Autocomplete address form language error

On stores with more than one language and Delivery orders, if you changed the platform language then Google's address autocomplete would show in the previous language