See the below features, improvements and bug fixes for the past month.
New Features
Room Charge - With Opera 5
The new Room charge feature in Opera 5 offers convenience and flexibility for guests by implementing authentication for security and privacy. It validates room details to ensure accuracy and prevents errors, while also enforcing constraints to comply with hotel policies. Additionally, the feature includes reporting capabilities for tracking and monitoring expenses.
Improvements
Eposnow point of sale integration - For Web enabled kiosk
This brings enhanced functionality and a seamless integration for a more efficient and streamlined customer experience. With this integration, the kiosk can now seamlessly communicate with the Eposnow point of sale system, allowing for real-time updates and synchronization of sales data.
Acrelec Printer
When an error occurs on the Acrelec side, it can cause issues with the kiosk. During these instances, the kiosk may stop generating logs until it is rebooted. This interruption can be frustrating for both guests and staff, as it hinders the ability to track and monitor transactions accurately. To address this problem, it is recommended to promptly reboot the kiosk whenever such errors occur. By doing so, the kiosk will resume normal operation and continue logging transactions seamlessly, ensuring a smooth and uninterrupted experience for all users.
Update Analytics Order screen to show Apple/Google types
In the latest update, we have made improvements to the Analytics Orders screen to provide more detailed information about Google and Apple types. This enhancement allows you to easily track and analyse orders made through Google Pay and Apple Pay, giving you valuable insights into the preferences and behaviour of your customers.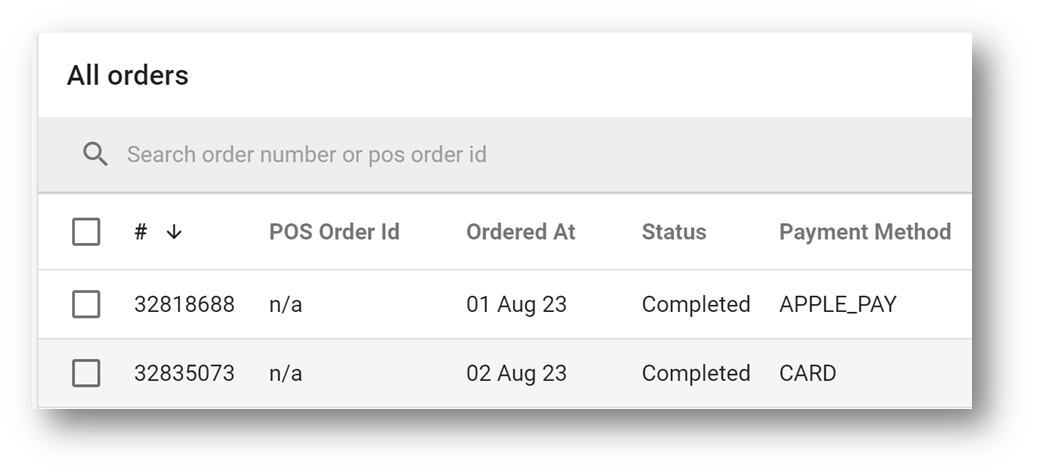 Add Charity information in Email receipt
The latest update introduces an update that allows you to include charity information in the email receipt sent to customers. By adding this information, you can promote and raise awareness for charitable causes supported by your establishment.
Update AdyenDropin integration to send another field
In the latest update, we have made enhancements to the AdyenDropin integration to include an additional field in the order details. Specifically, we have changed the way the Store ID is being utilized, so it now appears in the order details.
Bug Fixes
Yoyo - Net/Gross tax on tax exclusive countries. Fixed an issue when we are displaying the incorrect tax values, we now load the correct tax settings based of the tax setup on Yoyo
QP - Pay-out screen was incorrect. Fixed an issue where customers issues a partial refund, once the refund is completed the amount, fee, tax and type were incorrect on the pay-out screen.
New Mobile App. Custom Allergen links were not working on the new mobile app 1.5
Locker not working when using card payments.